Conference
BIO 25 and TrUR Closing Conference: A Little, So Much
Museum of Architecture and Design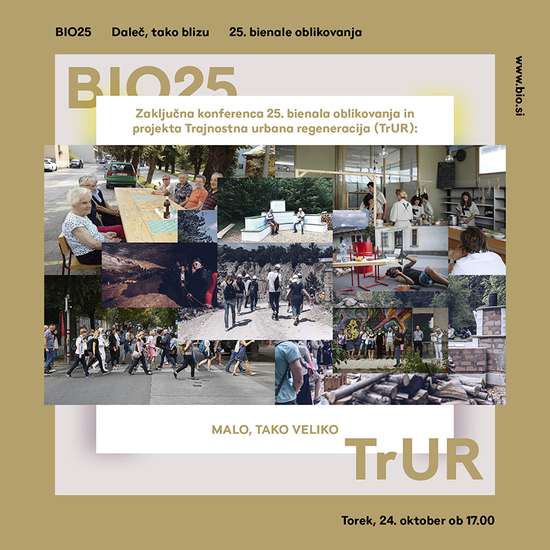 Date:
Tuesday, 24 Oct 2017 at 17:00
Venue:
Museum of Architecture and Design
Pot na Fužine 2
Ljubljana, Slovenia
Closing conference of BIO 25 and Sustainable Urban Regeneration project.

Faraway, So Close, this year's edition of BIO, 25th Biennial of Design, has gone out into the fields. Apart from Ljubljana, biennial events are also taking place in Grosuplje, Kočevje, Kobarid, Lendava, Trbovlje and Piran – in short, BIO takes place in the countryside and in small and medium-sized towns, where the majority of the Slovenian population lives.

One such town is Idrija, a place with an interesting history and a rich cultural heritage. Despite enjoying both a vibrant local economy and suffering high employment rates, it faces the same challenges familiar to all small towns – youth migration, desertification of the town center, a lack of sufficient social and cultural programs and a general feeling of lethargy.

How can small towns and cities confront these challenges and become leaders in offering a high quality of life to its inhabitants? This is what we'll be discussing at the closing conference, with urban development experts and representatives of Slovenian towns that hosted BIO 25.
Programme:

17.00 – 17.10
Welcome address

17.10 – 17.20
INTRODUCTION
Maja Vardjan, MAO, Museum of Architecture and Design
Marko Peterlin, IPoP – Institute for Spatial Policies

17.20 – 17.50
Wessel Badenhorst, URBACT expert: Revitalization of City Cores in Europe

17.50 –18.20
Panel: URBAN REGENERATION IN SMALL TOWNS
Bojan Sever, Mayor, Municipality of Idrija
Alenka Korenjak, prostoRož

18.20 – 18.35 Coffee break

18.35 – 19.00
Maja Vardjan, 25TH BIENNIAL OF DESIGN: Faraway, So Close

19.00 – 19.30
Panel: 25TH BIENNIAL OF DESIGN in Kočevje and Genterovci
Lili Štefanič, Director of Municipal Administration, Municipality of Kočevje
mag. Anton Balažek, Mayor, Municipality of Lendava

19.30 – 20.00
Discussion and closing remarks
Moderator: Nataša Briški