Guided tour / Countryside Reloaded
Countryside Reloaded
Genterovci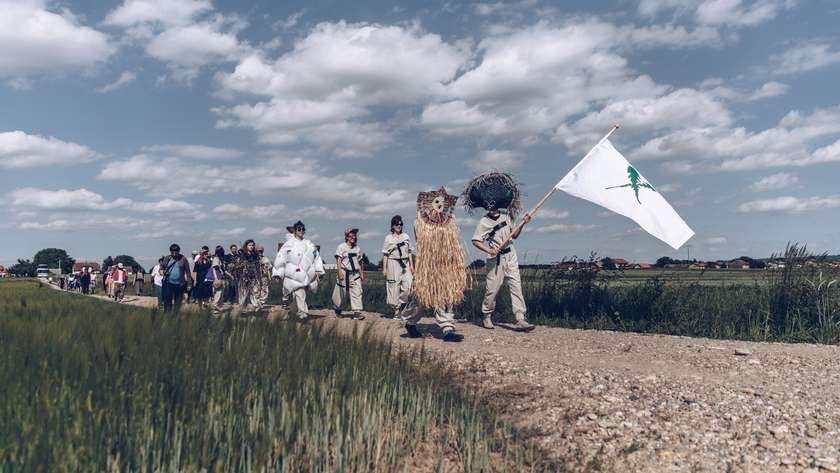 Date:
Saturday, 1 Jul 2017 at 11:00
Venue:
Genterovci
Pri Čardi 14
Dobrovnik, Lendava
Slovenija
Our first guided tour will take us to the location of the episode Countryside Reloaded.

Featuring an abandoned supermarket that once used to be the central point of rural life, the small village of Genterovci will be the center of our explorations guided by Vienna-based design studio Mischer'Traxler and food researcher and writer Klemen Košir.

Rather than highlighting romantic notions of rural life, the episode reveals the shocking reality of today's countryside and the increasing level of its automatization, digitalization and specialization – all because of growing demands for efficiency in agriculture and food industry.

The surroundings of Genterovci temporarily turns into a special kind of discovery path, a four kilometer long surrealistic tour of learning about food production and consumption processes, experienced through walking, foraging and eating food.

The tour will start and end at the abandoned supermarket that in the past featured as the model for food consumption. During BIO, the supermarket becomes a temporary space for social exchange conveyed by the experience of food.

Shuttle bus arranged!

Time schedule:
11.00 departure point: parking lot of MAO Ljubljana
12.45 brief stop in Maribor
14.00 arrival to Lendava
14.00 – 15.20 self-guided tour of Lendava
15.45 arrival to Genterovci
16.00 OPENING of the installation Countryside Reloaded in front of the Genterovci supermarket
17.00 guided tour of the path
20.00 return to Ljubljana
23.00 approximate arrival to Ljubljana

Appropriate clothing, adequate sun protection and plenty of fluids are strongly advised!

The shuttle bus will stop in Maribor at the Main bus station (Mlinska 1) as well!

Contact:
izobrazevanje@mao.si